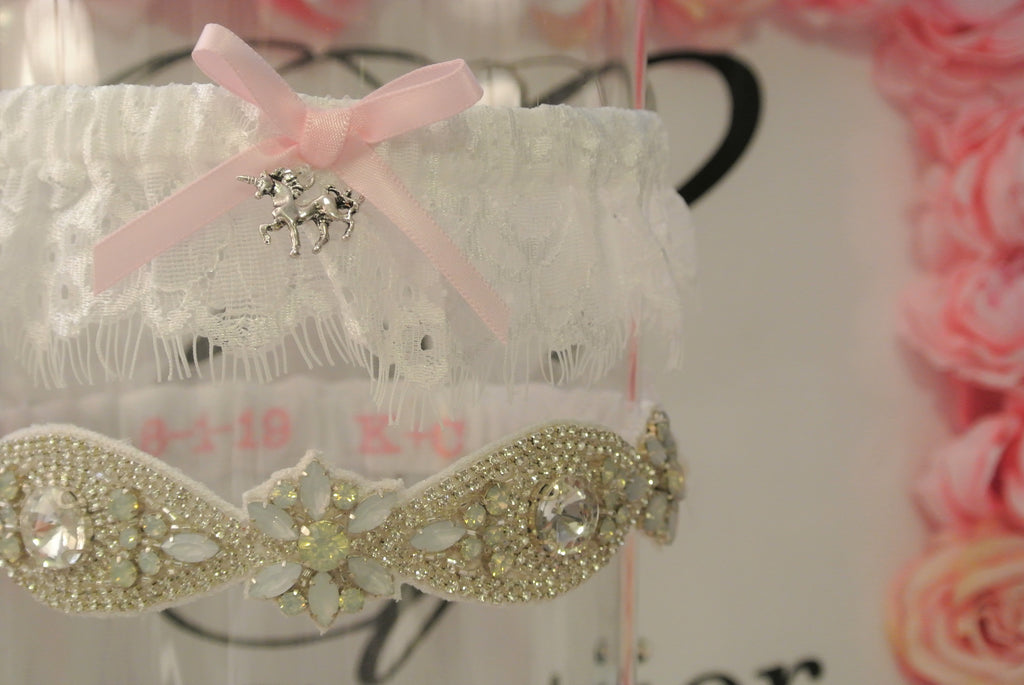 Whenever I meet a bride-to-be who likes the color pink as well as unicorns, I know immediately that we are going to have a BALL designing her wedding garter set. This was exactly the case when I "e-met" La Gartier bride Kristina Baldwin, who told me that she wanted to book a semi-custom garter that included blush pink as well as some sort of unicorn motif. (See photos below!)
Kristina had chosen a stunning Hayley Paige gown for her wedding day on March 1st, 2019 and she wanted a unicorn symbol to represent not only the magical-atmosphere of her wedding day but also the iconic Hayley Paige brand. It was a PERFECT match as we have a silver unicorn charm within our semi-custom charm collection. Doesn't it look stunning underneath the bow on her french lace toss garter?!
Then, because Kristina chose blush pink as one of the primary colors of her wedding day, we picked out a pink embroidery thread for her initials and wedding date. See the inner embroidery below? This was such a personal, heirloom-appropriate detail to include within her wedding garter set!!
Lastly, because Kristina's gown included opals (she was wearing Hayley Paige's Reagan gown which is to-die-for. Seriously. Google it.) she picked the Athena garter as her main keepsake design. All in all, this semi-custom wedding garter set screams Christina, her personality, her love of all things girly and the utter magical-allure of her wedding day. 
Interested in having a semi-custom garter set made for yourself or someone that you love? Then we have you covered! Currently, we are booked until June of 2019 for custom designs but as long as your wedding falls on or after July 1st of 2019, then we would LOVE to work with you! Please email us at info@lagartier.com!