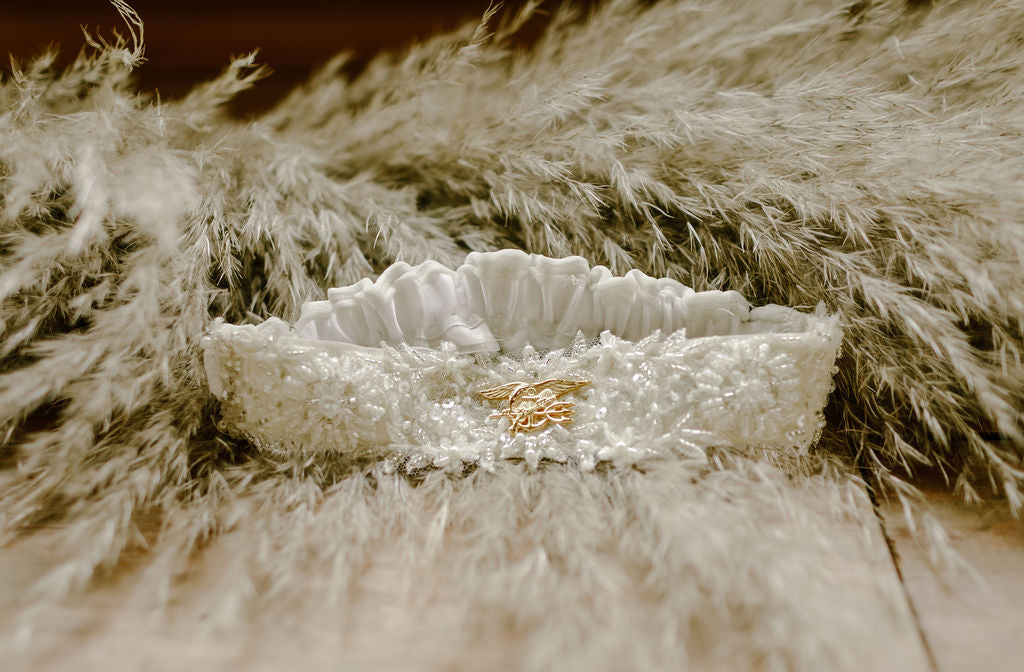 Every once and a Texas moon, I will have the opportunity to create a custom wedding garter design for a bride as a gift from the bride's sister. <insert tons of LOLS>  This was 
DEFINITELY 
the case last October when I worked with Amanda Champline of
La Vallee Brida
l to create a custom garter set for her
twin sister
Michelle Champline.
Actually- let me back track a little and explain: in 2018, La Gartier was fortunate enough to meet Amanda Champline, an absolute, drop dead beauty who was preparing to open her very first bridal store in Vail, Colorado. After partnering and working to provide
La Vallee
with some of the chicest, mountain-inspired wedding garters on this planet, Amanda sent me a very kind email one Sunday afternoon, asking me if I would be interested in creating a custom piece for her beloved twin sister Michelle. 
Without even hearing the details of her request, I agreed immediately. Full disclosure: I have been a huge fan of Amanda from the very first time I met her over the phone, so the idea of designing something for her twin sister was a project that I welcomed immediately. And I am so happy that I did! Amanda's ideas for Michelle's garters were amazing. She asked me if she could send me a custom Navy Seal pendant to symbolilze her soon-to-be-hubby's Navy roots (first idea) and then asked me if we could use Michelle's stunning Inbal Dror dress as the base inspiration for the body of the garter. 
Wondering how Michelle's garter came out? Scroll down to see photos of her beautiful personalized garter set!! (not to mention her custom hankie!)
And make sure to read the written captions below each photo to learn how each detail within Michelle's beautiful custom garter design symbolizes an aspect of her relationship, her wedding day style, and what might possibly be one of 2018's classiest weddings. 
Michelle's toss was made using hunter green vintage velvet-- chosen to match one of the primary colors used in her wedding. At the center was one single gold charm that read "family" <3
Michelle holding her custom La Gartier hankie that read "Little Onion 4 Life" -- (a private saying that she and her hubby share!)
Isn't her Inbal Dror gown gorgeous? Michelle found it at her twin sister's bridal shop in Vail -- La Vallee Bridal.
Another beautiful photo of Michelle's custom garter set.