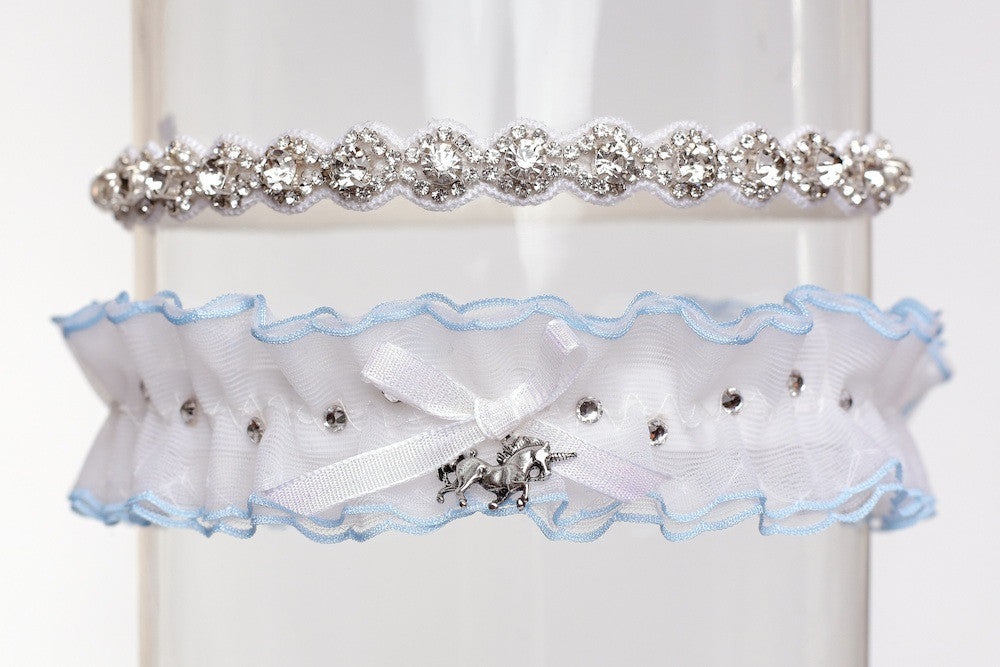 New product alert!!!! As you know, every six months or so, we add new products to our collection. This February, we did just that. And not just any new products, but one that our customers have been requesting for over a year-- a unicorn-inspired wedding garter design. Personally, I couldn't be more excited for the release of uber-magical beauty!
Who is the unicorn garter for? The unicorn garter was created for the bride who loves all things magical. She may be a girly girl or she may be an introverted type who loves fantasy literature <insert tons of black eyeliner here>  but one thing is for sure: she adores unicorns. In fact, I would be willing to bet 1 million dollars that she is marrying a man who also loves all thing sci-fi/fantasty related (but not as much as he loves her!) 
The best part? This garter now has its own emoji thanks to bridal gown designer
Hayley Paige.
(see image below for a glimpse of this gorgeous illustrated beauty!) We actually designed a custom unicorn inspired wedding garter for Hayley in 2014, which is a large part of the reason we are now releasing a permanent unicorn garter into our collection. (Hayley, thank you oodles for the inspiration + emoji! You literally made our entire February!) 
To make this beautiful garter your own, click
here
to be directed to our Unicorn Darling garter listing in our
shop.
Happy La Gartier everyone!