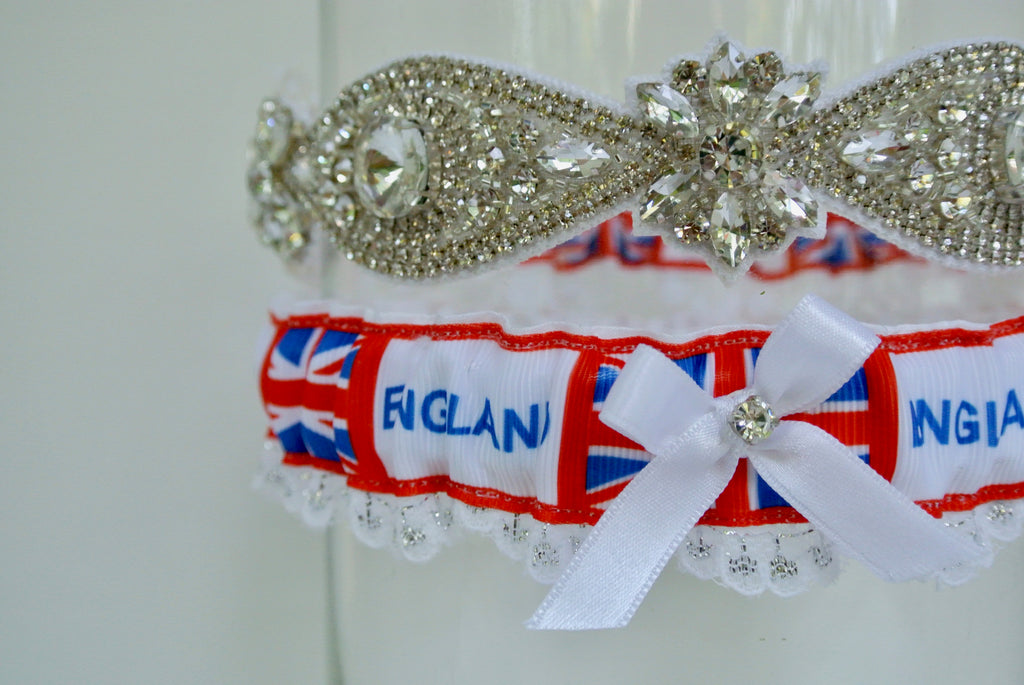 I can honestly say that I will never look at Spice Girls the same again. Seriously, after working on this special custom garter, the Spice Girls will forever be immortalized in my heart as something extra special. Please allow me to explain....
Last year, we had the pleasure of meeting a bride named AbbyJo Luquette at a trunk show at
AnnaBe Bridal
in Denver, Colorado who had the most energetic, bubbly disposition. On that day, she told me that she was a huge Spice Girls fan...and that some of her wedding day decor was going to be inspired by the Spice Girls. At first, I was skeptical because I couldn't envision a high-end, ultra-classy way to work Spice Girls insignia into a wedding day, but as time went on, I slowly started to see her vision come to life via instagram...and I was convinced. Fast forward six months later, and AbbyJo reached out to us via email to ask us to create a custom Spice Girls themed wedding garter set for her using not only elements of the British flag, but also lace from her mother's wedding gown.  
When AbbyJo first reached out to us, I knew only one thing for sure: the only way we were going to bring this beautiful Spice Girls garter set to life is if we kept the entire design SUPER CLASSY and HIGH-END. I had spent time looking online at other Spice Girls wedding accessories, and most of them were super cheesy in my opinion. (And when I say "most" of them, I mean all of them.)  
When AbbyJo offered to ship me lace from her mother's wedding dress, that is the moment that I knew we had a true heirloom-worthy project in front of us.  I was over-the-moon excited with inspiration! 
We ended up creating a total of three custom garters for AbbyJo: one for her to keep, one for her to wear during her bachelorette party in Vegas and an extra one for her to toss. In addition, we created a set of Spice-Girls-inspired wedding hankies for her too. Each one was so special. I am literally tearing up just thinking about this beautiful project!
For her keepsake garter, we used our beloved
Vienna
garter (from our collection) as the base. Then, we hand-crafted a back band for her garter using lace from her mother's wedding dress. For her toss, we used a custom British flag grosgrain ribbon to symbolize AbbyJo's love of the Spice Girls. 
One of my favorite details about AbbyJo's set was that the inside ribbon of her keepsake garter featured the same British flag ribbon that we used on her toss garter. It was a very special, hidden detail that both AbbyJo and myself were obsessed with. 
Interested in seeing the creative process? Click here to watch the making of her garters from beginning to end! 
(Side note: As of December 26th, 2021, we are currently booked out until March of 2022 for customizations. If you are interested in booking one of our monthly spots to commission us to create a garter set for you, please email hello@lagartier.com!)