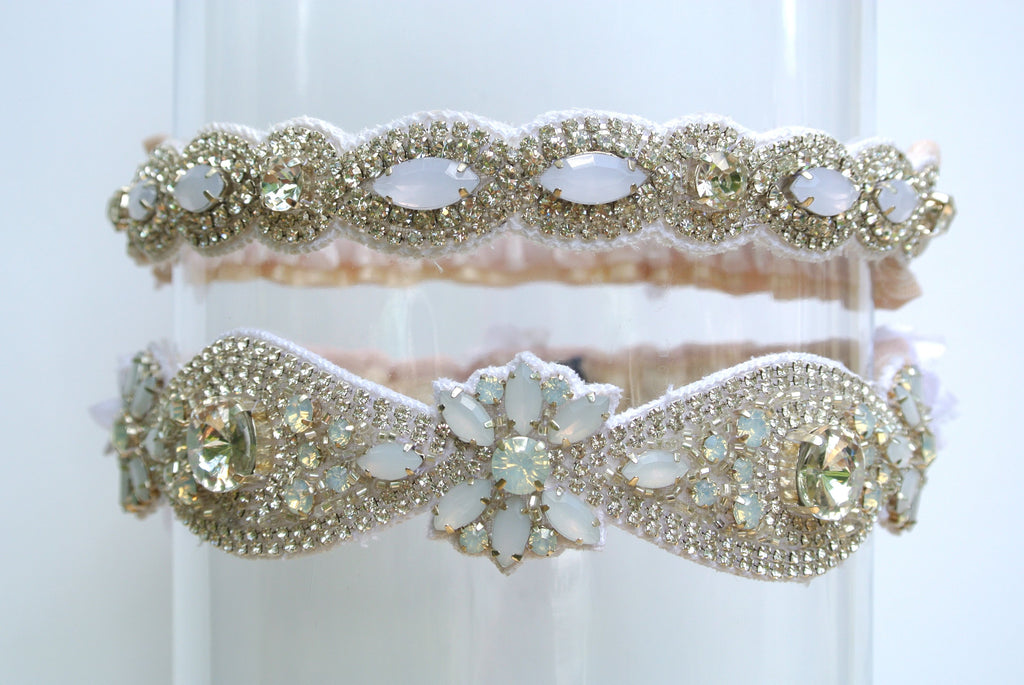 Just finished: La Gartier bride Kelley Romero's Romantic Southern Bayou wedding garter set!! This special design was created using pieces of Kelley's mothers' wedding veil and gown. (If you watch our videos on instagram, then you will probably remember the beautiful vintage veil we had sitting on top of our studio lamp for 2 weeks. Her veil made our entire room feel more alive and beauty-infused, similar to how one single vase of roses can bring a room to life.)
Originally, Kelley had requested a garter that would be romantic, whimsical, girly sparkly and unique to match her
Hayley Paige
gown but after we spoke via telephone, she and I decided to also add elements from her mother's wedding day ensemble. This took the significance of her garter set from a 5 to a 10 in my opinion!!! The best part?? All of the embellishments that we pulled from the vintage veil were IRIDESCENT, which couldn't have worked more perfectly with Kelley's love of
Hayley Paige
!!!
Below are detailed photos of Kelley's unbelievably special wedding garter set! If you love this set as much as we do, then read the captions below each photo to learn more about the details that make this design so meaningful!! Interested in a custom garter set of your own?? You can contact us by clicking
here.
All of the tiny flowers that you see came from the crown of her mother's veil. This took hours upon hours of hand-sewing and cutting pieces off of Kelley's mothers' original veil, but to be completely honest, it was a blast!!  
The color of the light champagne pink fabric under the flowers was created to match the layered skirt on her gown as well as the pink ombré
Sara Gabriel
veil that Kelley will be wearing. (i die) 
The two bridal buttons on either side of her "Hayley" toss garter were taken from her mother's gown.
The swarovski crystals that we placed inside the flowers and in little "cluster" arrangements on the back band of her garter were done in a mixture of clear and opal stones to match Kelley's other wedding accessories. 
My favorite part? Kelley sent me the original tag from the inside of her mother's gown to be incorporated into her garter. Talk about a meaningful "something blue"! (or should I say "something navy blue"?)
Because Kelley ended up adoring her Hayley toss garter, I decided to make her a third, simple pink velvet toss for the garter removal part of her reception. The flower at the center and the little iridescent sequin leaf in the middle were both taken from the crown on her mother's veil. 
Kelley, I could go on forever about how incredible these garters turned out, but what I can't communicate in words is the feeling that came over me when I had your wedding music playing while slowly hand-sewing the details on the back band. Something truly magical happened in those moments, like weaving your love of Mark together with your love of your Mom and...maybe, just maybe, the love you will have for your future daughter.