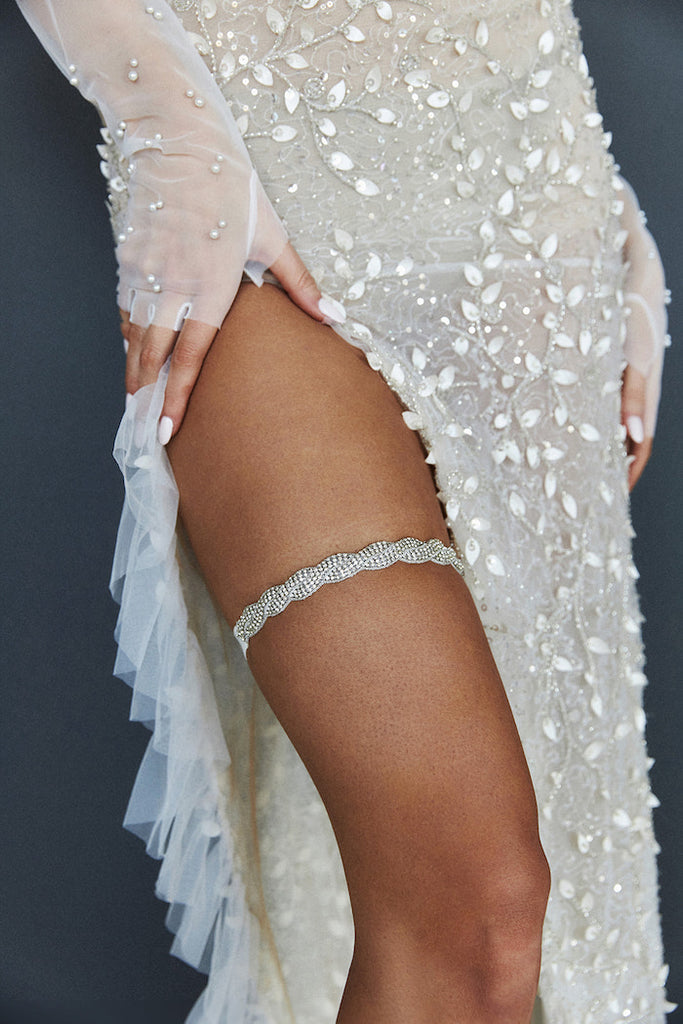 I read a statistic recently that said 2022's wedding season is going to be bigger than anything that America has seen since 1984. To be specific, it reported that more weddings will be happening in the United States in 2022 than any other year since 1984. And you know what? I believe it. Why? Because just about every single person that I know has a wedding invitation sitting on their kitchen counter or tacked to the fridge at this very moment, which means it's time for all of us to get savvy about wedding gifts. 
If you are reading this and you want an idea (or four) regarding what to get for your best bride friend, then below are five fantastic (and affordable) gift ideas for the bride right now.
Let's start with the most affordable and then work our way up, shall we?
When it comes to vow books, there are a ton of options. Yes, it's true that you can buy a set for $15 from Etsy that are pretty enough, but there is just something so romantic about a hard cover, appropriately binded book, isn't there? When it comes to vow books, I am
so in love
with these darling gold-foil pressed beauties! They are from a company called
Silk and Willow
and cost only $39.50. Interested to see more of them? Click
here
to access the listing on their website.
Ok, so this one is a no brainer. These little ring boxes from
The Mrs. Box
have been a beloved, go-to wedding gift for years now. While there are quite a few look-alike velvet ring boxes on the scene right now, no one can replicate the quaility of these gorgeous rings boxes from
The Mrs. Box.
No sure what color to get her? I recommend sticking with ivory or white in order to ensure that it will compliment all of her other wedding day details. Love what you are hearing and want to learn more? Click here to access
"The Margaery Classic" ring box
in ivory on the
Mrs. Box
website! Priced at $85, you can't go wrong with this soft, darling little box!
Full confession: this garter is from us directly, so perhaps we are speaking with a tad bit of bias right now, but honestly- a garter makes for such a PERFECT wedding gift. Why? Because brides usually don't even think about this detail until the last minute, let alone a garter that dazzles with designer details and blinding sparkle. The best part? Our garters range in price from $30 to $300, meaning that you will have no trouble picking out a style that works best for your budget. To shop the Infinity garter that you see in the photo above (which costs $92), click
here.
To shop our entire collection, click
here! 
On a budget? No problem. We have you covered! This darling
"Wifey" bobby pin
from
Untamed Petals
sits comfy at just $18! Isn't it just so cute? I adore this gift idea because it gives the bride something she can wear not only on her wedding day but also after the wedding on, say, her honeymoon or even in the days immediately following her nuptials! Modern, sassy, and full of statement, this perfectly affordable bobby pin says everything without the bride ever saying anything. Interested to see more? Click
here
to access the listing on the
Untamed Petals website.
5. BHLDN Gift Card 
Ok, so I realize that it is sometimes viewed as faux-pas to give someone a gift card for any occasion, however I can't help but argue here: when it comes to a wedding, gift cards are actually genius. I mean, how are you really supposed to know which details she has taken care of thus far and which ones she has not? Plus, have you yourself ever complained about receiving a gift card before? Um no. I love them actually. With that said, I highly recommend this darling gift card from BHLDN, that can be loaded with any amount you want and gifted either in person or electronically. (Let's aim for in person, shall we? Definitely more personal!) 
But wait--- are you interested to see what giving this gift card will allow her to get?!!!! Say yes say yes say yes. Click here to visit the BHLDN website and have your mind blown. Or, click here to access their specific gift card listing. 
6. The I Loved You First Hankie From La Gartier Garters
If she is going to cry, you might as well give her something gorgeous to wipe her tears with. Our "I Loved You First" wedding hankie not only makes for a practical gift, but also one that has heirloom-integrity, meaning that she can pass it down to her daughter someday...and then her daughter to her granddaughter and so on. The best part? It is only $72 and comes with breathtaking packaging.
7. The Personalized Mrs. Sweatshirt from Topline Apparel on Etsy
For only $20, you can gift your bestie a soft cotton sweatshirt that is customized to her new last name! Talk about a meaningful gift! Check out Topline Apparel on Etsy to make this gift yours! (er, hers?)
8. The Oh So Engaged Earrings from La Gartier Garters
Looking to get the best gifting trophy ever at her bridal shower? Look no farther than our floral-inspired Oh So Engaged earrings from our new earring collection! Created to fill all of her days prior to your wedding with unmistakable style and sass, these earrings will catch side eyes from everyone at, say, her bachelorette party, her rehearsal dinner, or on her first days back at the office after the wedding.) The best part? We purposefully kept the price low on these beauties so you can spend EXTRA on the wedding day itself!
 Ok, friends I think that is all for today! Hopefully, this little article has helped to shed some light on what to get for your bestie bride friend this year! If you are interested in hearing a few more, feel free to email us at hello@lagartier.com and we be more than happy to send you links to a few more!