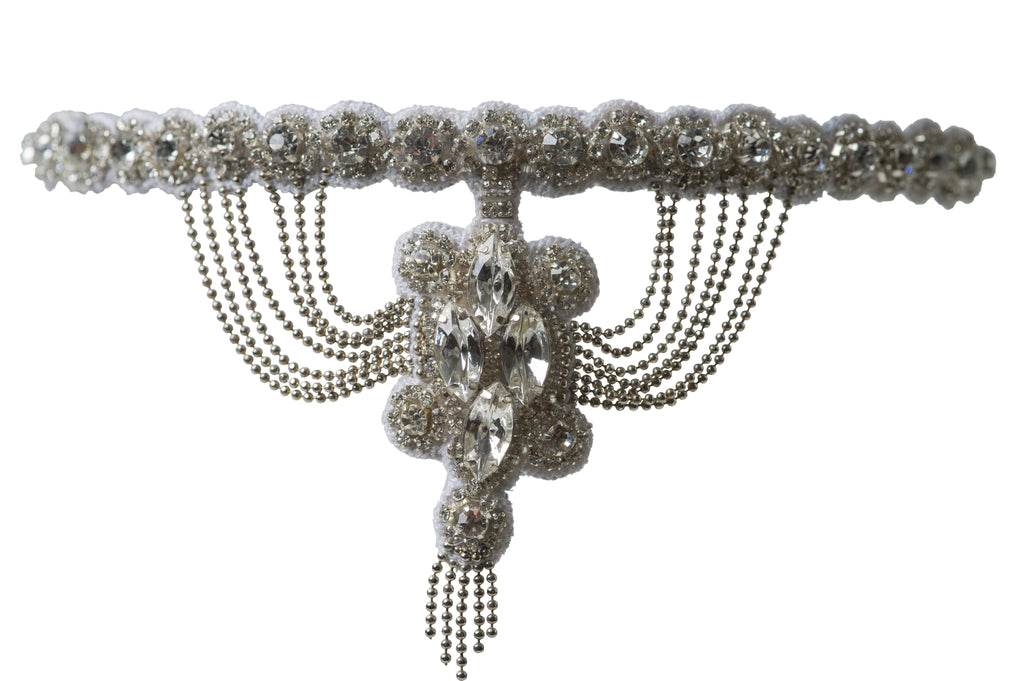 Ok, so let me guess. You love Art Deco. You have read The Great Gatsby
at least
two times. You
adore
ornate framed, gilt vintage mirrors. You can't live without the color gold and when it comes to romance, you immediately imagine old-Hollywood glamour.
Sound like you? 
The reason that I write this is because I too share your obsession. In fact, I think I have read The Great Gatsby more than four times, and I saw The Great Gastby directed by Baz Luhrmann on opening night...and not long ago, we designed a wedding garter inspired by the dripping glamour of Art Deco. 
Fun fact: she's still in our collection. After four years, we still have her!
In fact, she has become one of our most popular wedding garter designs, that I doubt we will ever transition her out. (no promises though. Who knows with these crazy 2022 supply chain issues.) 
Without further adieu, meet the Aurora garter. 
This garter is made of a sparkling rhinestone band and center "Gatsby draping" rhinestone/chain detail. The top band features 16 brilliant circular Swarovski crystal rhinestones encircled by two additional, micro rings of rhinestones for added wow-factor. But this is nothing compared to the centerpiece. Anchored at the center, a statement detail covered in marquis-shaped gems shines bright like a diamond, flanked by ball-chain strings on the left and right side. The back half of this design is made of a soft, light ivory elastic, cut to fit the exact measurement of your leg. 
💗 💋 Since this design was released in 2014, we have had numerous clients as us if the center statement piece will get caught on their gown or be obtrusive as they walk. The answer is heck no! We would never release a garter that was not sound functionally-speaking ..and never have our Aurora brides reported that the centerpiece was heavy OR that it caught on the fabric of their gowns. However, if you have any questions or concerns, please email us at info@lagartier.com and we will be more than happy to assist you. 💗
This garter would be PERFECT for a bride who loves any and all things Gatsby/Art-Deco-inspired. This garter would also work extremely well for a bride who is wearing a form-fitting gown (ie: mermaid or trumpet) due to the fact that it lies very flat against the leg. This design has been worn by many high-profile brides, including model/reality TV star Kandi Burruss.  🙌
Interested to see more? Click
here
to be directed to the Aurora listing in our shop!