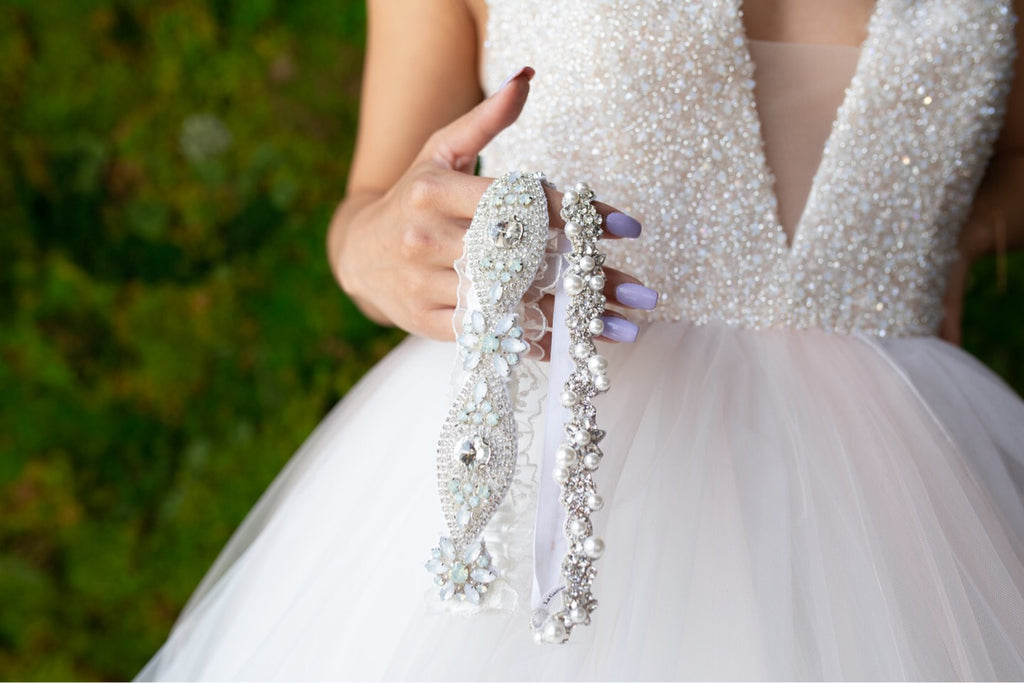 This must feel like a whole new world for you. Yesterday, you were shopping for cute date-night outfits and now you are knee-deep in the world of bridal.
<Insert: "Toto, I've a feeling we aren't in Kansas anymore" quote here> 
 I don't know who needs to hear this, but you are not alone. Whatever you do, d
on't assume
that it's just you. Literally
 

the only people in the world
who enter the ultra-girly-world-of-bridal with prior knowledge are, well, people like me who have lived and breathed it
for ten years. 
So, when it comes to garter questions, sit back and let me do all of the shopping for you honey. 
Today's question: do I wear one or two garters? 
Today's answer: It's honestly whatever you want. I know that that's not what you wanted to hear, but really, there are no rules to this thing. In fact, I've actually worked with brides in the past who have worn three garters before. (See photo below.)
Ok, even I'll admit: three is a little excessive but honestly look HOW GOOD IT LOOKS. 
But for clarity purposes, let me break it down for you: usually, a bride will purchase two garters if she is planning on doing the garter toss. Then, she tosses the one that isn't too fancy during her reception and keeps the one she can't get enough of as an heirloom accessory. 
If you are planning on doing the garter toss, then check out how pretty 
two garters look together when worn!
Above is one of our past brides, Sabrina Bryan from The Cheetah Girls, wearing both of her La Gartier garters under her gown on her wedding day. She actually ended up keeping both of these gorgeous designs and not tossing either of them. Still, if you are definitely NOT planning  on doing the garter toss, you can easily get away with purchasing just one garter. If that's the case, your leg styles will look a little like this. (Keep scrolling.)
If you decide to wear just one garter on your wedding day, then I say make it count.
That is, find a garter that truly speaks to who you are as a person and rock it like BEYONCE. The best part? You are already at the best place for finding a garter that is so uniquely you, you'll wonder why you didn't know about it sooner. Click
here
to find your spirit garter. (Hint: she's been looking for you.)