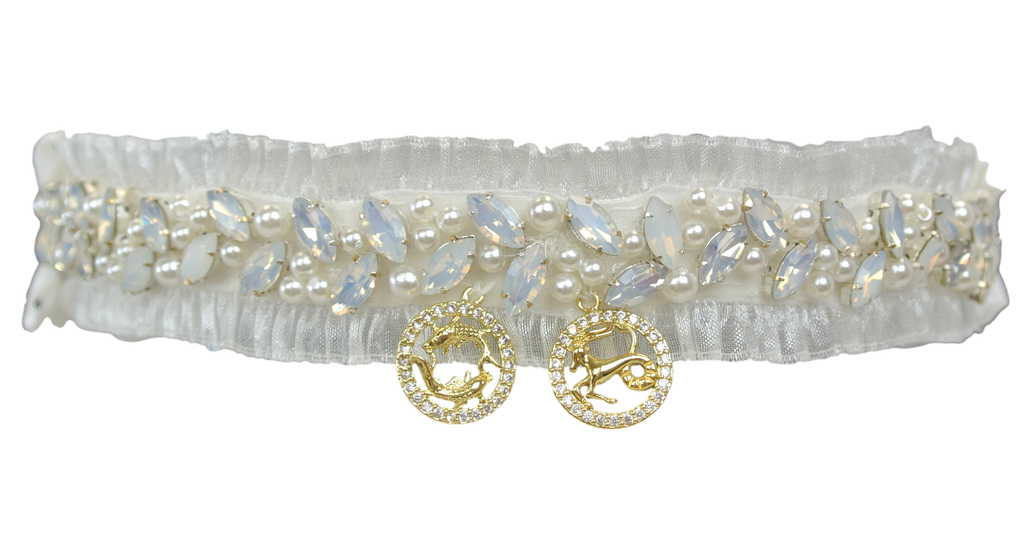 Ladies and gentleman, we have a new garter in our collection! And we are SCREAMING!!! Not only is this garter unlike anything in the world, but she's also customizable, meaning that you are able to choose two unique pendants at the center that speak specifically to your relationship story!
She's called
The Zodiac
, and if you love astrology, then this garter was meant for you! 
As before-mentioned, this garter was made for the bride who adores astrology, the signs of the zodiac, horoscopes, and love compatibility theory. When asked if her soul mate's natural habits and inclinations have anything to do with the time of year he/she was born, she will most likely respond with a passionate YES.
She is someone who reads her horoscope monthly, and most likely sends all of her friends their horoscopes monthly too. This bride is deeply spiritual, and decided a LONG TIME AGO that there are powers at work in our universe that are greater than ourselves. She knows that we cannot always control what happens, however we can control how we react to it.
Mystical, semi-superstitious, and full of glamour, this bride to be adores accessories that speak to her personality and her life on a deep level. 
Side note: due to the ice blue color of the stones within this garter, this design would make for a  PERFECT "something blue."
The best feature about this garter is that YOU get to pick the two gold zodiac symbols that hang from the center of the design! So far, we have made one that features cancer and pisces, Sagittarius and taurus, and one other for a client who is marrying a pisces like herself. (Go figure-- a pisces falling in love with a pisces. Classic love compatibility right there!) 
 Interested to learn more? Click here to be directed to The Zodiac listing in our shop or email us at hello@lagartier.com to place an order!