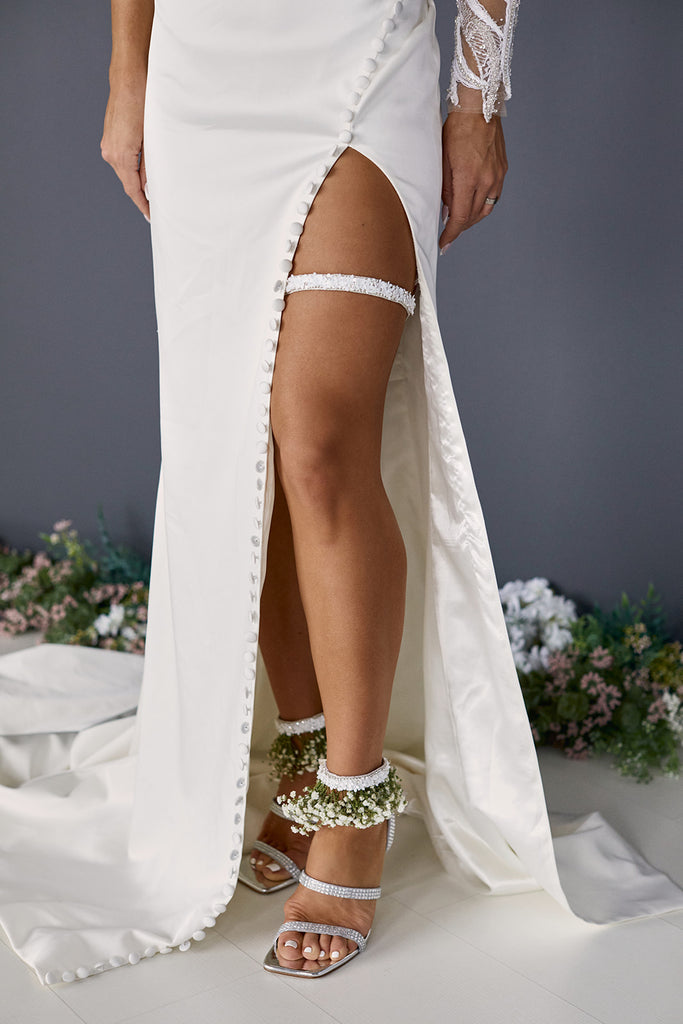 Welcome to our magical oasis at Park Studios ATL where we showcased our 2021 collection with the one and only
Kelly Lane Photography.
Our fave opalescent garter, the Ariel Opal, collided with model Mariya Khlysta for a moment we will never be able to forget. 
A warm thank you to
Plum Pretty Sugar
for sending us this incredible Femme Bridal Robe. It made the aesthetic of our shoot shine bright like a diamond.
Are you feelin' those glam vibes?! We are. And we are so appreciative to the one and only
Bogart Beauty
for slaying Mariya's hair and make up look last week. Pure magic right here. 
We are particularly smitten with this image of the
Ariel Opal garter
on Mariya towards the tail end of our glamorous shoot. Doesn't she look amazing? 
The one and only Mariya Khlysta
 wearing our Oh-So-Engaged earrings with a robe from Plum Pretty Sugar!!! (Mic drop.) 🎤🎤 A big big teary-eyed, heart-bursting-with-gratitude THANK YOU to everyone who made our most recent, floral-inspired photoshoot possible!  Dear photographer Kelly Lane:
 it hurts to think I might not have met you. Your photography skills are a true creative blessing to all of us. The world. Me. The flowers. Your kitty. The city of Atlanta at large. Just EVERYONE. 🙏🏼🙏🏼💋💋💋
And to model Mariya Khlysta
- all I can say is that the woman at the Chanel counter who insisted that I get in touch with you is getting a special thank you package this week. Like, tomorrow. I'm totally serious. I owe her one big time and there is DEFINITELY some big magic up in the sky that helped us cross paths. I am stunned by the combination of your physical beauty and your inner prettiness. It's definitely not common. Girl, you are a TRUE UNICORN. 🦄🦄🦄🦄.
To make up artist Erica Bogart
: I am not only grateful for your shimmer-highlight-glam-bam-talents, but to the universe in general for bringing us closer these past few months via various creative projects. I once heard somebody say "let your work be your prayer" .....and I can't help but wonder if our simultaneous always-striving-to-grow-to-greater-heights hustle is, at this point in our lives, in perfect alignment with one another's right now...which....when fused together, consequently resulted in these incredible photos of Mariya ...not to mention mini-charcuterie boards and pink telephones. 👯📞😂
And to the amazing ATL bridal store Elite Pour La Vie
- I am speechless. This gown made the entire shoot and I would like to apologize to NO ONE about how much we are going to be tagging you in 2021. 😂😂🤗 🙏🏼🙏🏼🙏🏼
If anyone out there reading this is truly smitten with the wedding dress in these photos, please get in touch with a store called Elite Pour La Vie
. You won't regret it. People fly out to Atlanta every week to try on gowns at this legendary store. 💗💗