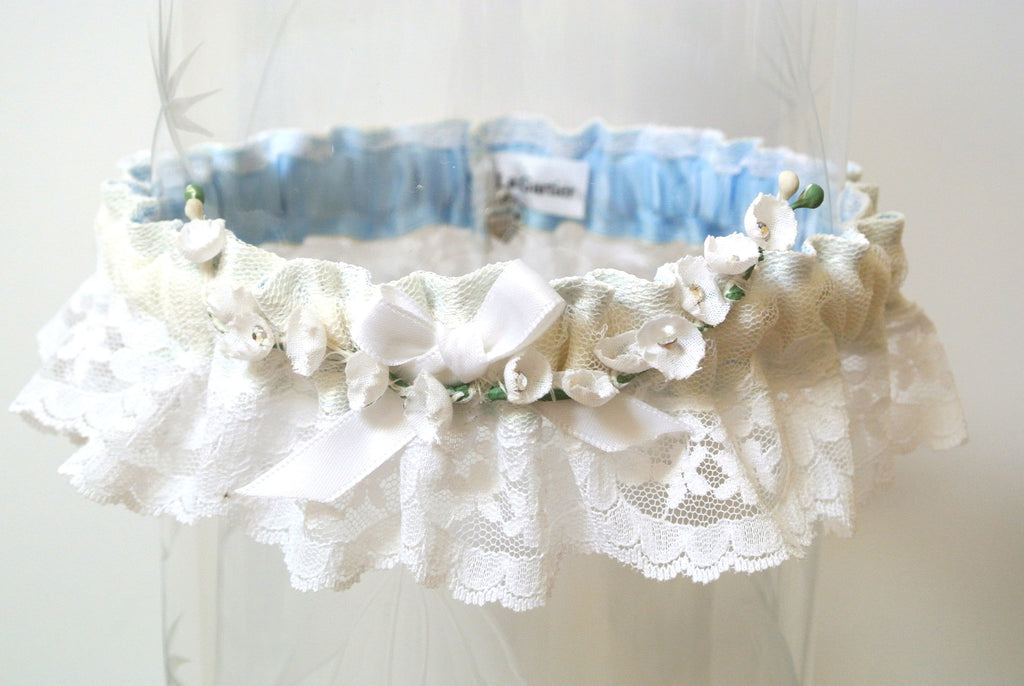 Last month, I had the extreme pleasure of working with a bride named Madison McCoy, who is basically an angel wrapped in cute athletic apparel. 
Madison emailed me last August with the hope that I could remake her fiance's great grandmother's wedding garter. That's right-- great grandmother. Her request was so extraordinary that I feel compelled to show you just what Madison wrote to me that late summer day 8 months ago. Here is what she wrote:
"My fiancé's grandmother just passed away about a month ago. They were really close, and she was so special to both of us. Over the weekend, my fiancé's mother gave me something so special: the garter his grandmother wore on her wedding day, which was also the garter his grandfather's (who passed years ago) mother wore on her day. This thing is ancient, but the elasticity is still perfectly intact, which is amazing. 

So, as you can probably guess, I am torn between what to do. My fiancé and I brainstormed, and he suggested I ask if there was any way you could recreate the garter for me and bring it to life with a La Gartier twist of sparkle and magic."
When I read Madison's email, my heart skipped a beat. I immediately asked her to send me photos of the original garter so that I could get an idea of what it looked like. Below are the photos for you to see:
This garter was ancient, and beautiful for just that reason. At first, I thought that Madison was asking me to take the heirloom garter and add new elements to it. But what she was asking was for me to create a new garter inspired by the heirloom garter, with a modern and sparkly twist. Seriously, I wouldn't have turned down this request for the world. The floral embellishments on the front of her fiance's great grandmother's garter were what really got me. I set to work shopping like the little fabric and embellishment junkie that I am and just 5 short months later, the new baby was born. Below are photos of Madison's revamped heirloom garter. Creating this beauty was an absolute dream!!! Talk about a meaningful "something blue"! Madison, if you are reading this, I want to take a moment to personally thank you for trusting me with such a meaningful project. I feel honored to have been asked to take on a task significant to your new family's lineage! 10,000 hugs to you!