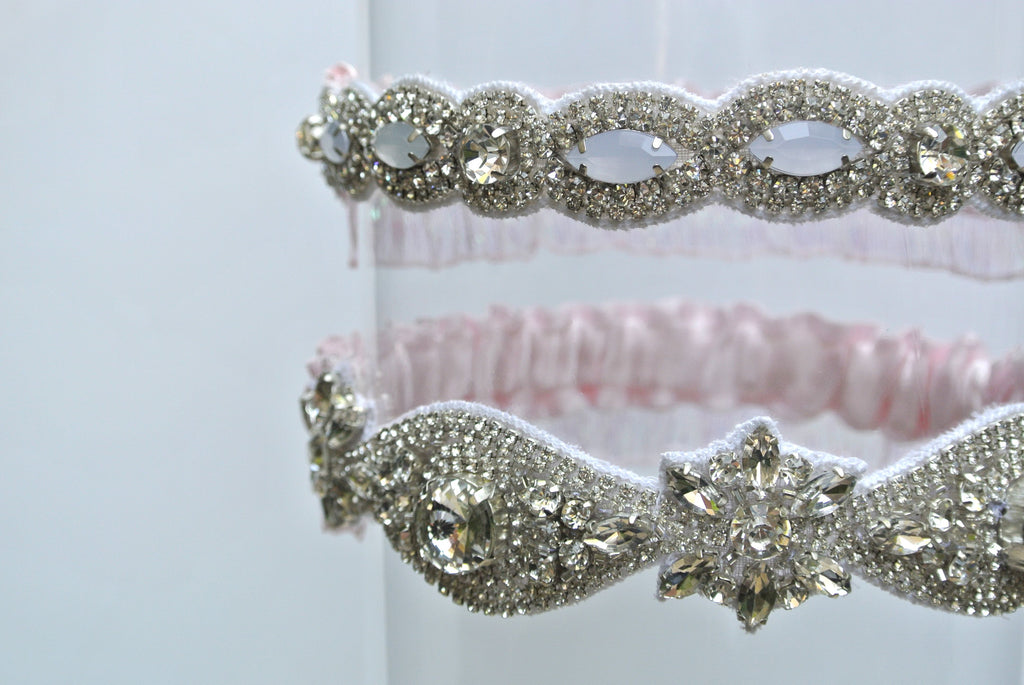 If you look up La Gartier bride Nicole Hoffman on Instagram, the first thing that it says is "Fiance." The second thing that it read is "lover of all things pink and sparkly." When I read this, I just knew that Nicole and I were going to get along. Little did I know that the garter set that would be born of our meeting would be just that: pink and sparkly. The back story: Nicole first contacted me with the hope that I could create a police-officer-inspired wedding garter for her October 2017 nuptials. (She is marrying a man who has been in the police for for the past 2 years and in the military before that. Basically, a man with bravery in excess.) However, Nicole and I both agreed that her garter shouldn't look like traditional police-inspired garters that you see on, say, Etsy or other online stores. (ie: thin blue line theme, super cheap bright blue organza, etc.) On the contrary, Nicole requested a garter that exuded feminity and utter girliness in the heart of the design, with a beautiful but understated nod to her soon-to-be-hubby's profession at the center. Below are photos of all three of Nicole's garters: one to keep, one to pass down and one to throw. Underneath each photos is a little bit of written information about each garter, so make sure to read those little babies too! (Note: please keep in mind that if you are interested in a personalized garter of your own, then we would LOVE to work with you!! Simply email info@lagartier.com or use the contact form by clicking here.) 
For Nicole's garter set, we ordered an unbelievably beautiful locket from My Beloved Collection that was engraved with her soon-to-be-hubby's badge number. Dear Nicole, the number "258" will forever remind me of you and the love you have for Sam. <insert weeping Holy Matrimoji emoji here>
 "ballet slipper pink" was the name of the satin that we used on all 3 of Nicole's garters.
The bow at the center of Nicole's toss garter (which she will actually never end up tossing!) was a slightly iridescent white satin ribbon which is more or less a unicorn in the world of fine ribbons.
All of the trim that we used on the tapered ends of Nicole's garters was made using a fine iridescent "horse hair" trim, which gave her whole design a magical, almost-mermaid-like feeling to it. I'm pretty sure that if you looked up the word "playful" in the dictionary, this is the trim you would see. 
I honestly can't decide which garter I like the most! As someone who truly loves all things pink and sparkly, I can honestly say that this might be the prettiest police-officer wedding garter set ever created. Nicole, I am so happy that we met! We get all the A+ star stickers for this one!