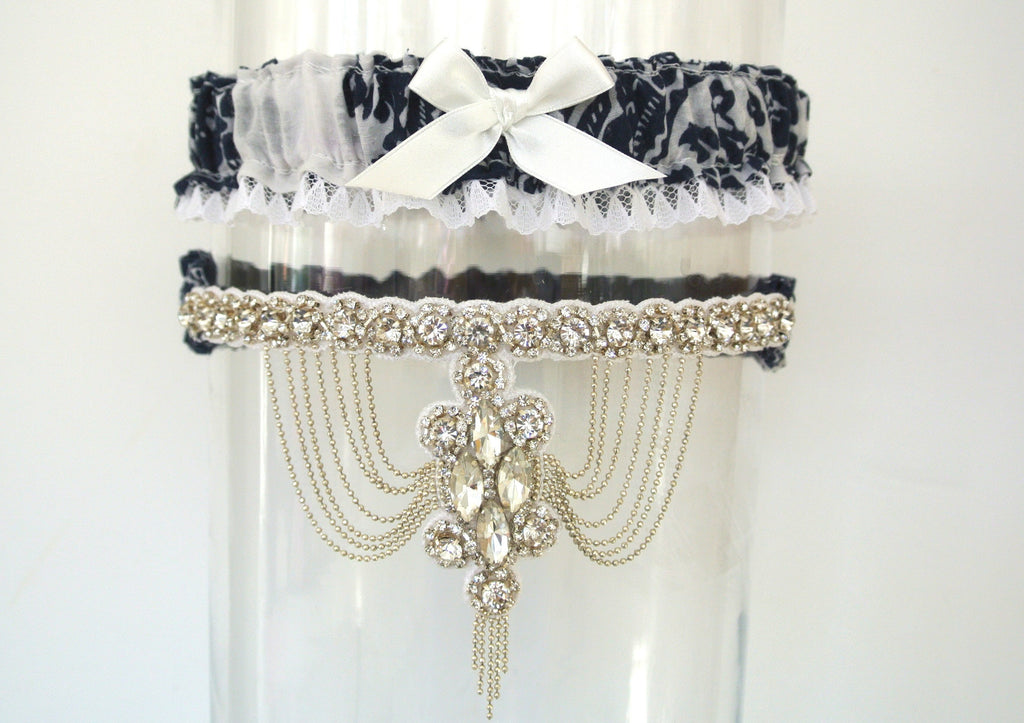 Just finished: La Gartier bride Kaci Vrabec custom paisley shirt and Fleur De Lis wedding garter set. Oh, did I mention art deco too? That too. This garter set was so incredible on so many different levels. I barely know where to begin. Here is the story behind what is possibly the prettiest "something blue" wedding garter set EVER created: the blue paisley fabric that you see on the back of her keepsake garter and the body of her toss garter were taken from a shirt that once belonged to Kaci's nana. Kaci lost her grandmother not too long ago, and wanted to have something on her wedding day that was symbolic of her shining personality and kind heart. When I heard this, I knew right away that this was a project that I wanted to be apart of. So, Kaci shipped me the Paisley shirt and we set to work with the #LoveTransformation project right away. (If you follow us on instagram, then chances are you saw the video where I was cutting up this shirt with Poison by Bell Biv Devoe blasting in the background.) 
The final product came out STUNNING!! Truth be told: 
The elements of Kaci's design were so multi-layered and meaningful that I can't think of anything else to do but bullet-point them! Scroll through the photos below to learn more about what might be the world's most special "something blue" garter set ever created.  
Kaci is saying "I Do" in New Orleans, so we decided to add a tiny Fleur De Lis pendant to the center of her toss garter to symbolize what will forever be the location of the happiest day in her life. *grabs tissues*
I had a feeling that Kaci was not going to want to toss her custom Fleur De Lis toss garter, so I created a third sparkling design for her that would work well with her gown and also impress all of her guests. (But not so special that she wouldn't want to toss it. ) 
The tiny silver Fleur De Lis pendant was an Etsy find. My favorite part? The shop we purchased it from was located in NOLA. 
My favorite detail? The tag from Kaci's Nana's shirt was sewn to the inside of her toss garter as a special, hidden detail. 
La Gartier bride Kaci Vrabec's amazingly gorgeous custom garters inside of the signature La Gartier box. Do you love these garters as much as we do? If so, please feel free to contact us at info@lagartier.com to inquire about a custom wedding garter set of your own. We'd love to hear from you!