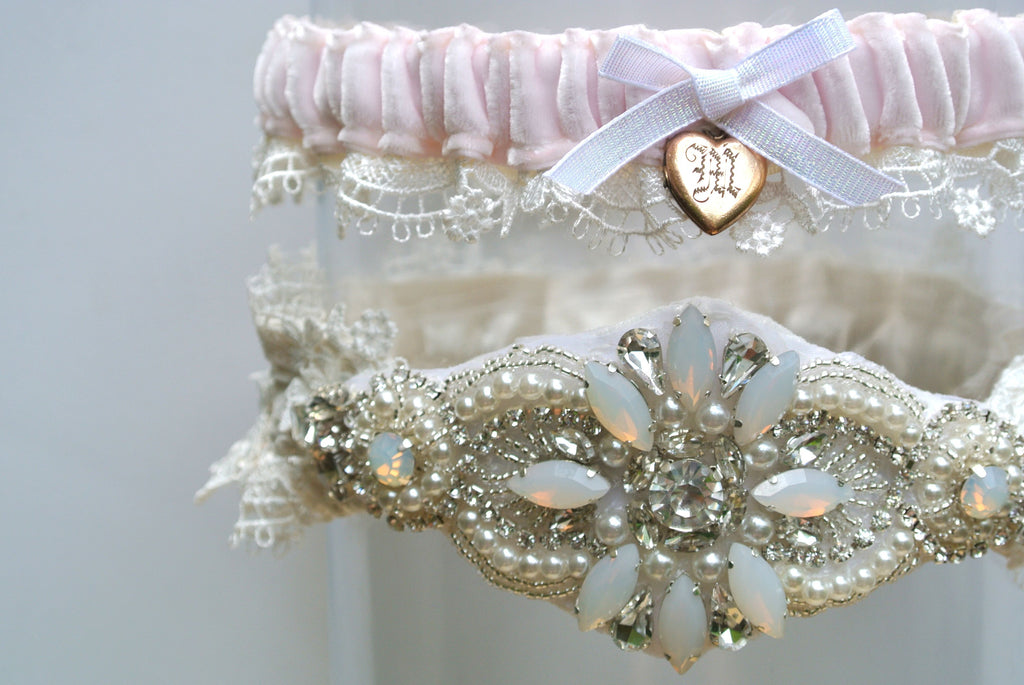 As June comes to a close, so does all of our June customizations. This month, I worked with three different brides to create 3 completely unique wedding garters sets. While I don't usually play favorites, I have to say that June's "winning" custom garter design is La Gartier bride Victoria Henderson's vintage locket and opal garter set. (see photos  and captions below!) 
When Victoria contacted us last March to book her custom garter, she told me that she wanted something that matched her gown as well as the beading on her sash. I agreed to take on her customization immediately, expecting it to turn out just like her gown.......... but her garters ended up being SO MUCH MORE!! Here are just a few photos of Victoria's garter set along with some written info about my favorite designs elements: 
The rose gold locket at the center of her toss is an original antique that Victoria and I stumbled across on Etsy. We just about died when we found this one because "M" is the first initial of her fiancé' name: Montana. We weren't even looking for an engraved locket, let alone one engraved with an "M"....but it's my personal opinion that this BEAUTY found its way to us for the creation of her garters. Meant to be? Yes, yes and yes!
The pink velvet ribbon on her toss garter was chosen to match her bridesmaids dresses as well as the slight blush pink tone of her Enzoani bridal gown. Also, the opal and rhinestone beading on her keepsake matches the beading on her sash, but not so matchy matchy that it's obnoxious.
Her wedding date and initials are embroidered on the inside of her garter in navy blue to match her groomsmens tuxes. (This means that Victoria has not only one but two "something blues" for her wedding day!)
Because Victoria didn't want to toss her vintage "M" locket garter, we created this amazing "G" inspired toss for her. That way, she could keep the vintage locket design and still do the garter toss. (G is the first letter of her new last name! So appropriate, right?!)
The only thing not pictured here is all of the beautiful custom packaging that we created when we packed up her garters to be shipped!!  Also not pictured here is the look on her daughter's face 30 years from now when Victoria gives her one or both of these garters for her very own wedding day!! <insert happy tears emoji>
Victoria, I can't wait to hear about what you decide to put into the locket. Knowing how much you love florals and greenery, I have a feeling it will be something organic from your wedding day but anything you decide will most likely be beyond gorgeous!
If you love these photos as much as we do and would like to speak with someone about having a custom garter made for yourself or someone whom you love, then please feel free to contact us via email at info@lagartier.com OR you can use the contact form by clicking here. Happy La Gartier everyone!