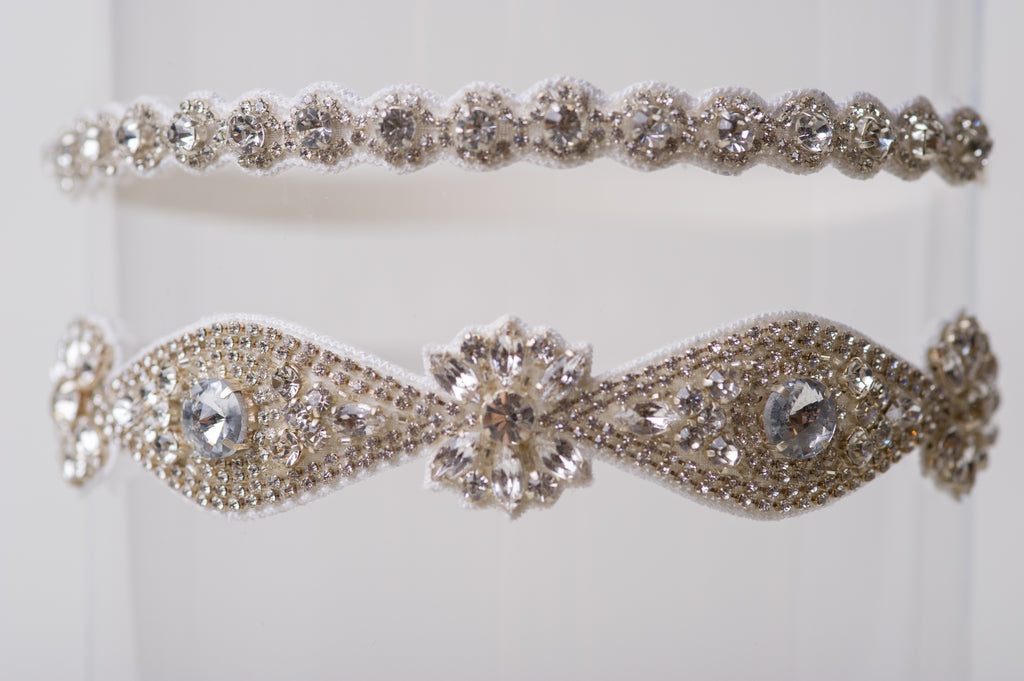 This must feel like a whole new world for you. Yesterday, you were shopping for cute date outfits and maybe an outfit for a trip with your beloved. Now you are knee-deep in the world of bridal, feeling at a loss for where to go to buy all of your cutest bridal outfits. I don't know who needs to hear this, but you are not alone. Whatever you do, don't assume that it's just you. Literally
 

the only people in the world
who enter the strange-sparkly-planet-called-bridal with prior knowledge are, well, people like me who have lived and breathed it
for ten years. 
So, sit back and let me do all of the shopping for you honey. 
You need recommendations regarding where to purchase a gorgeous wedding garter set? Well, you came to the right place. We are literally KNOWN for them. Let's go. Here are FIVE of the prettiest jeweled wedding garter sets in our collection.
1. The Vienna Garter + Sparkling Blue Pearl Toss Garter
Ok, so truth fast: we don't sell these two garters together. In fact, we don't sell any of our garters as a "combined set". Rather, we offer each of our garters individually (both keepsake and toss) so that you can mix and match in order to create a set that is unique to YOU. Do you see that gorgeous blue pearl garter in the photo above? It is called our
Blue Pearl garter
and it can be combined with any of our keepsake designs in order to create a Beyonce-worthy wedding garter set that is sure to catch side eyes from just about everyone. The garter that you see on the bottom is called our Vienna garter. She has been worn by multiple celebrities over the years. Oftentimes, our clients will purchase the Vienna all by herself simply because they don't need a set. (Ahem- just another reason that we don't sell our designs as pre-packaged sets.) BUT don't fret! The best part about this arrangement is that you can head to our collection and select the keepsake garter that you like the most....and then the toss garter you like the most!
Don't see what you are looking for?
Let's look at a few other drool-worthy wedding garter sets below!
2. The Blue Evelyn Garter + Sparkling Rhinestone Toss Garter
This wedding garter set is a must-have if you are looking to check off your "something blue" via your wedding garter will also making sure that you have just the right amount of sparkle under your gown! The garter that you see on the top is called our
Rhinestone Toss Garter
. When I tell you that she is slim, sparkling, and completely one-of-a-kind, I mean it! In fact, she is so alluring that TONS of our clients order her all by herself. However, if you are looking for an incredible (and affordable) jeweled wedding garter set, then opt to combine her with our Blue Evelyn garter. Not only is the
Blue Evelyn garter
simple, but she also looks like she uses please's and thank you's at every opportunity. 
Not a fan of blue? No problem. We have you covered. Keep scrolling!
3. The Pink Evelyn + Ivory Pearl Toss 
I felt that. You just stopped scrolling. And for good reason. This jeweled wedding garter set is just too good to be true. Not only is she elegant, but she also somehow manages to tow the line between classic and modern all at once. Behold- our
Pink Evelyn garter
combine with our oh-so perfect
Ivory Pearl toss garter
. This combination is a must-have if you are incorporation pearls into your wedding day! Pro-tip: if you love the color pink, then that is enough of a reason to wear the
Pink Evelyn!
That is to say, you don't necessarily need to be utilizing the color pink into your bridal color pallet to wear this garter. In fact, because you are wearing it beneath your gown, I say wear whatever color you like! 
Not enough sparkle for you? Keep scrolling. If there's one thing we are not short on, it's jewels!
4. The Aurora garter + rhinestone toss garter 
Dripping in luxury and jewels, this wedding garter set is truly celeb-worthy. The garter that you see on the bottom is called our
Aurora garter
. Some describe her as the "Great Gatsby Garter" due to her ultra Art Deco vibes. She is truly unlike any other wedding garter on the planet...and if you love a true statement piece when it comes to accessories, then this garter has literally
been waiting for you to find it.
 The toss garter that you see up top is, again, our sparkling rhinestone toss garter. Keep in mind that if your budget is strict, you can always order the
Aurora
by herself or the
rhinestone toss garter
by herself. As the great writer F. Scott Fitzgerald wrote: "there are no rules to this thing."
5. The Lori Garter + Ivory Pearl Toss Garter
Created for the bride who loves subtle touches of gold,
The Lori garter
is unparalleled. And when you combine her with the effortless romance of the
Ivory Pearl Toss Garter
?! Game over.  The best part? Both of these designs are moderately priced, so combining them to make a set won't break the bank. 
But wait! One last set for you to see! 
6. The Hayley Garter + Rhinestone Toss Garter
Do you love opals? Do you love sparkle? Do you love garters that are completely unique? I think I just heard three yes's in a row. You guys-- this garter set is fit for a QUEEN. The garter that you see on the bottom is called
The Hayley garter.
It was designed for (and worn by) Hayley Paige in 2015. The garter that you see on the top is, again, our
sparkling rhinestone toss garter
. When placed side by side, there is no mistaking it: this jeweled wedding garter set says
FLEX.
Interested to see more options? Click
here
to access our full collection! And remember: any of our garters can be combined in order to make a stunning jeweled wedding garter set! 
Ok beauties! That sums up our top suggestions regarding which jeweled wedding garter sets are the best in our collection!
If you have any questions or need help picking out a perfect bridal garter set to compliment your wedding day look then please email us at hello@lagartier.com! Love you. Mean it.