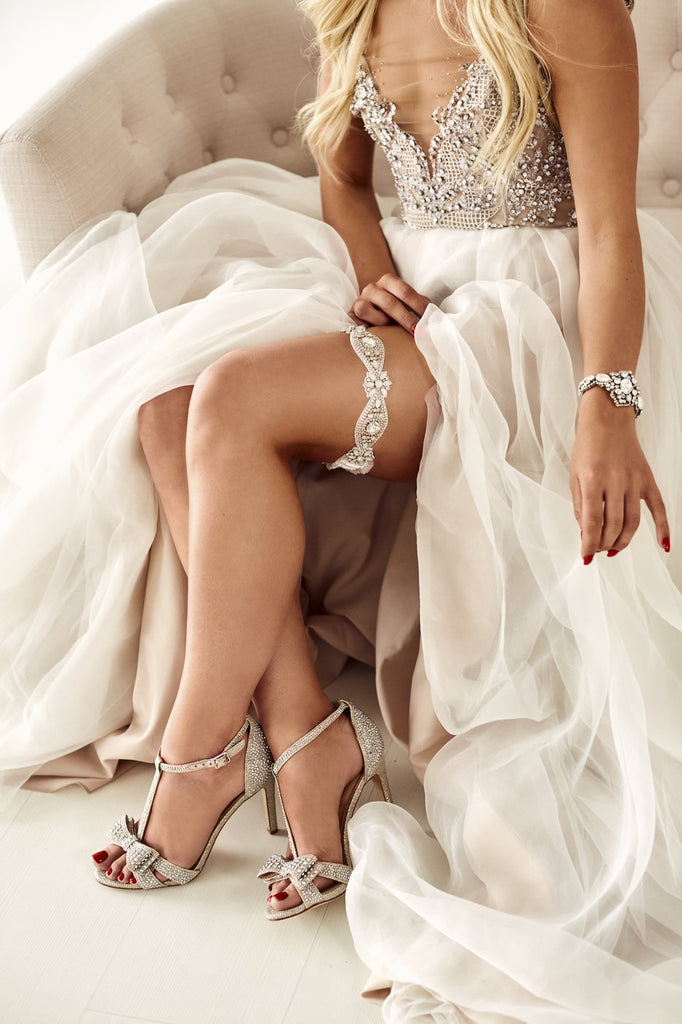 When it comes to cute and modern, our garters are hands-down the best on the market. And while I realize that I sound like a huge braggart right now, the truth is....well, it really is #FACTS. 
I have spent countless hours googling phrases such as "modern wedding garters" and "cute wedding garters" and there really isn't anything else out there that compares to the craftsmanship, the quality, and the craftsmanship that we put into our pieces. 
If you are looking for an unapologetically cute wedding garter, then here are five our our most popular styles, listed in order of popularity! 
1. The Aurora Wedding Garter
This gorgeous, sparkling garter is so unique that I don't even know where to start. It has been worn by multiple celebrities, including
Kandi Burruss
of the Real Housewives of Atlanta as well as actress
 

Anna Camp

 
from Pitch Perfect. The Aurora has been in our collection since 2015.
That
is how popular she is. If you are interested in seeing more angles, photos, her written description, or her price, then please click
here
to be directed to the Aurora garter on our website!
2. The Floral Fairytale Wedding Garter 

This garter is made out of a 3-D floral and swarovski crystal band. Sprinkled throughout the body of the garter are tiny blue and ivory pearls as well as pink and purple transparent beading. The back elastic band is created using a fine ivory satin with floral embroidered lace on top and bottom.🌸  Hand-sewn along the band are 8 tiny flowers centered with 1 single swarovski crystal rhinestone at the center for added sparkle. 💎  The best part? The inner lining of this garter is made using white seersucker and white double-faced satin ribbon for an original and crisp touch. 
Please note: this is a limited-edition design. We have only three of these in stock. Once we are sold out of this piece, it will never be available again. 🧵

 
If you are interested in seeing more of this design, then please click
here
to be directed to the listing in our shop!
3. The Venus Pearl Garter 
Most arguably our most sought-after wedding garter design, the Venus Pearl garter is everything people say she is and more. 
When aiming to find the balance between classicism and modernism, look no farther than the Venus Pearl garter. Set within a sparkling swarovski crystal front band, exactly 22 pearls gleam like eternal moons in an intentionally cluster-like, celestial pattern.  ☪️  The best part? If you look closely, you will see that there are 
exactly three star shapes
 hidden within the band, meant to symbolize growth in life or personal achievements. (no, seriously-- google it. 
Star symbolism
.) 🌟
If you are interested in learning more about this drop-dead gorgeous design, then please click
 

here

 
to be taken to the Venus Pearl listing in our shop!
4. The Zodiac Wedding Garter
The Zodiac garter (a.k.a. The Astrology Garter) was made for the bride who adores astrology, the signs of the zodiac, horoscopes, and love compatibility theory. When asked if her soul mate's natural habits and inclinations have anything to do with the time of year he/she was born, she will most likely respond with a passionate YES.
She is someone who reads her horoscope monthly, and most likely sends all of her friends their horoscopes monthly too. This bride is deeply spiritual, and decided a LONG TIME AGO that there are powers at work in our universe that are greater than ourselves. She knows that we cannot always control what happens, however we can control how we react to it.
Mystical, semi-superstitious, and full of glamour, this bride to be adores accessories that speak to her personality and her life on a deep level. 
Side note: due to the ice blue color of the stones within this garter, this design would make for a  PERFECT "something blue." Interested to see more? Click here to go to the listing on our website! 
5. The Ever After Wedding Garter 

Where do we start?? This garter is so magical, that we need at least a paragraph to describe its multi-dimensional components! 💎  First, a little back story: When creating this garter, the first feature that we knew that we wanted to include was tons of sparkle, a distinct 3-D floral element and a distinct "princess blue" color. 💙
As you can see in the photos above, the front band is primarily comprised of clear, sparkling pear-shaped swarovski crystals. ✨  Blooming from within the sparkling band are exactly five flowers: three blue (made of a soft acrylic and a rhinestone detail at the center of each flower) as well as two white flowers (made of gauzy, ethereal organza with a pearl detail at the center.) 🌸
The best part? The inside of the back band is embroidered with the words "Happily Ever After" in princess blue. (something blue? check and check✔️✔️) Other details to note: the back band is created using a lace overlay on the outside which can be admired from behind you was you walk down the aisle or dance the night away on the dance floor). The back band also features 15 sparkling swarovski crystal rhinestone embellishments. (hand-placed for extra sparkle.) ✨
This garter was worn by Lauren Burnham of The Bachelor on her wedding day. 🌹 To see the national press attention it received, please click here to see the story that US Weekly wrote. 🙌