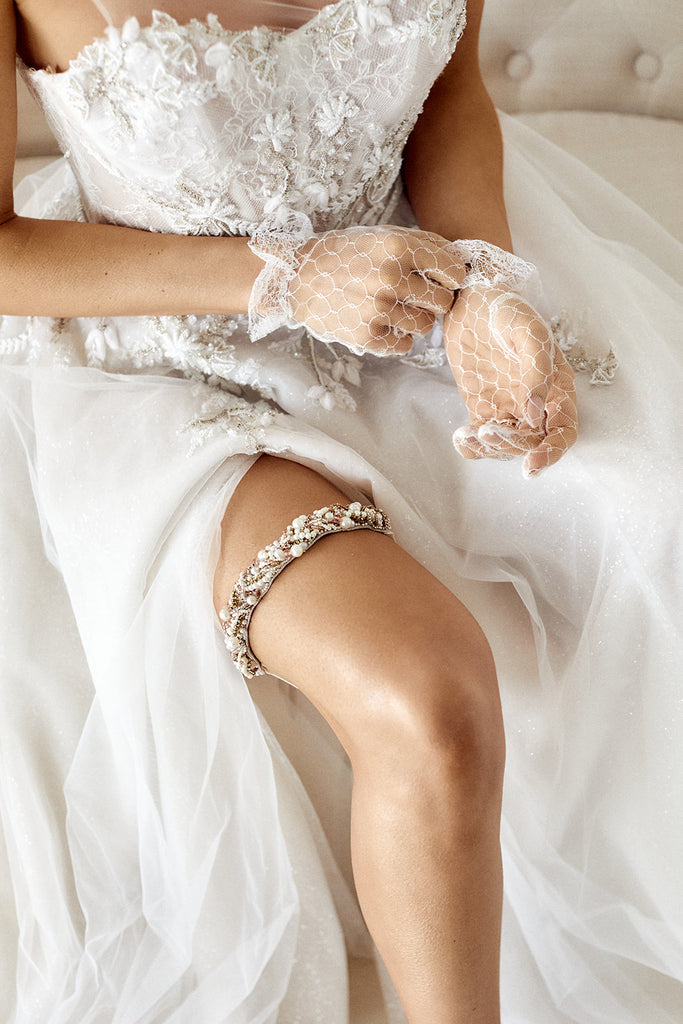 Truth fast: the world needed a wedding garter like this. It's needed it 
for years
, and we are so excited to finally be able to offer the world's prettiest rose gold garter as apart of our collection!
Seriously, we have half a mind to apologize for
not creating
it sooner for you guys. Behold- The Coco Pearl Garter - created for the bride who adores all things rose gold, all things that includes pearls, and all things warm & romantic. Interested to see more? Click
here
to see more of this garter in our shop!
When aiming to find the balance between classicism and romanticism, look no farther than the Coco Pearl garter. Set within a sparkling swarovski crystal front band, exactly 22 pearls gleam like eternal moons in an intentionally cluster-like, celestial pattern. 💫   The best part? The undertone of rose gold will be sure to compliment any warm, romantic color pallet, making for an unparalleled match to your wedding day and your naturally romantic disposition. 🌹
As her name suggests, the Coco pearl garter was created for the most sensual and sensitive female personalities.  As most of you know, Coco was the epitome of blending modernism with classicism. In her mind, less was always more. In that spirit, the Coco Pearl garter was created.  Suffice to say, this garter was made for a bride who is known for her love of traditional + classic elements, but who also cannot get enough of modern twists on classic concepts. 👰‍♀️ Also, (and we think this goes without saying, the Coco Pearl bride is a bride who cannot live without warm, romantic elements within her life -- be it candles in her home, gold lockets around her neck, cozy sweaters in the fall, or (I am just going to say it) 👉  the color pink. 💗
She should also be someone who appreciate classic motifs (pearls) but who likes to add a modern twist to them (braided gold chain detailing), creating a beautifully juxtaposed combination. (Modern classic? yes and yes.) ✔️
Interested to see more? Please click here to be directed to the Coco Pearl listing or email us at hello@lagartier.com!