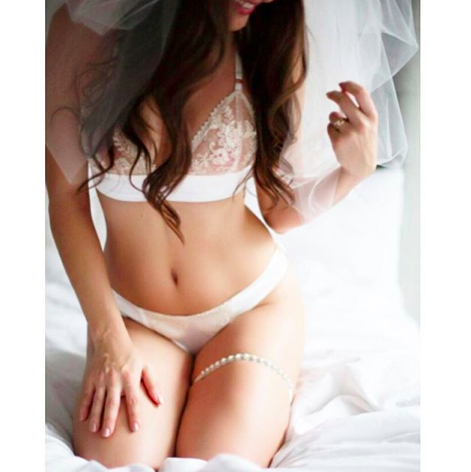 The beginning of February went off with a bang when Jennifer Williams of
Jennifer Williams Boudoir
sent me the 
prettiest photographs
from a recent bridal boudoir shoot that she did using our ivory pearl toss garter.
The timing could not have been more perfect with Valentine's Day sitting smack dab in the middle of the month. I means, seriously, nothing says
I Love You
more than a sizzling bridal boudoir session set in a sea of creamy linen sheets and high-quality lingerie.
Valentine's Day aside, I was also extremely happy that Jennifer sent us these images due to the fact that they single handedly make one point very clear:  if you are planning on doing a bridal boudoir shoot before you wedding, then you
simply must
have a La Gartier garter on hand. Slim, sparkling and modern, our garters make for the most beautiful addition to any bridal lingerie set that you might be considering. The best part? You can then wear your garter again on your wedding day or even your wedding night! To shop our entire collection, please click
here
: 
Also, just in case you are equally taken with the lingerie that Jennifer used in the below images-- they belong to a company called
Lola & August
that will simply knock your socks off.
A huge thank you to Jennifer Williams of Jennifer Williams Boudoir for taking the time to capture our designs in such a flattering and sexy light! And another big thank you to the beauty wearing our garter in the below photos, Vannessa Young, for modeling our ivory pearl garter like an angel sent from heaven. You both make our company extremely happy to be in business of dressing brides-to-be during one of the sexiest holidays of the year-- Valentine's Day. These photos could not have come at a more appropriate time! Happy La Gartier everyone!