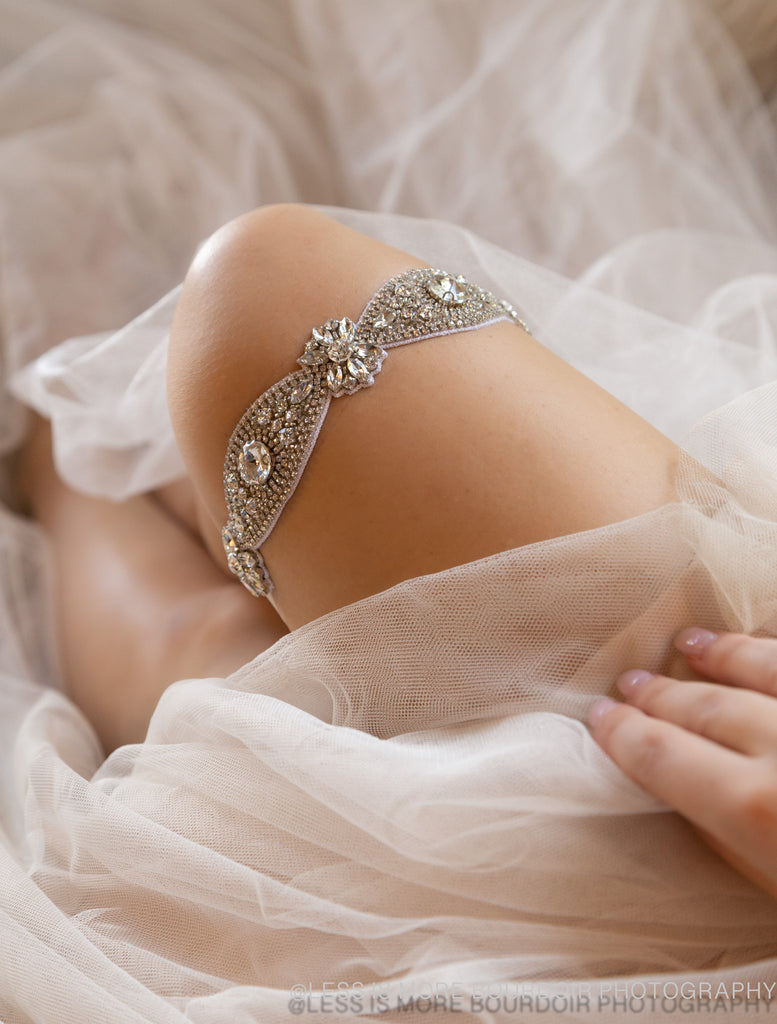 Gratitude moment!!! Last month, we met an incredible photographer named Livia Lillanueva of Less Is More Boudoir Photography who did an entire styled shoot using our designs!!!💗⭐️💗⭐️  The looks that she put together with our designs are to-die-for!!  💗⭐️⭐️  Ladies, if you are looking for some big boudoir outfit ideas, then keep scrolling! 
Can someone say bridal robe gorgeousness? Livia of Less Is More Boudoir owns an entire collection of these robes in multiple colors and we are SWOONING! The garter that you see on this model's leg is a brand new design that we will be releasing this Cyber Monday- November 29th, 2021. 
Here is another angle of her garters and this jaw-dropping bridal robe. I have two huge suggestions for you if you are planning on doing a bridal boudoir shoot: one, make sure you have a garter and make sure you have a bridal robe that speaks volumes!
Here, the model wears our ever-beloved Coco Pearl garter plus the exact same gorgeous robe (but in blush pink this time!) 
For a more traditional look, consider pairing a lace bridal robe with our Venus Pearl garter. This garter is by far our best-selling design in our collection, featuring a mixture of pearls, sparkle, and celestial symbolism. 
Here is one more look at what a lace bridal robe looks like when paired with our ultra-gorgeous Venus Pearl garter. (Proving once again that bridal robes + La Gartier go together like Jenny & Forrest.)
We saved the best for last! When looking for a show-stopping, where-did-you-get-that-wedding garter design, look no farther than our Vienna garter, photographed like a pro by Less Is More Boudoir Photography!