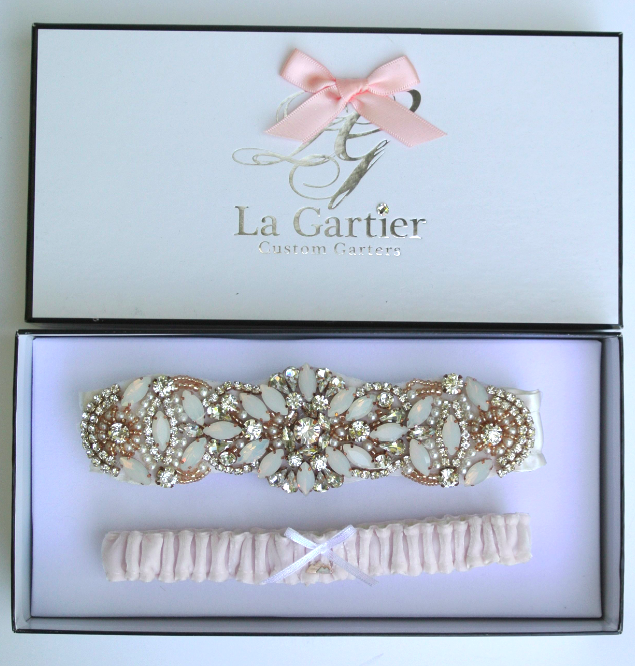 With Mother's Day approaching, I can't think of a more meaninful gift to give to your mother than a wedding garter made out of the fabric from her wedding gown. It's pretty much the most touching thing that I can think of, even when it is not my mother or even my garter. Last month, I had the extreme pleasure of working with La Gartier bride Alexandra Larson, who requested that I create a custom garter set for her using her mother's wedding gown. (Full disclosure: at this point in our company's life, this is not an unusual request. Regardless, it always sets my heart on fire because of the deep significance of the fabric. Vintage gowns always surprise me with their unpredictable design elements, which means that I have no control over how the "feel" of the garter is going to come out. It's like creating a cuisine given a mystery box full of ingredients...and I live for the thrill of it.) But wait, here is the best part: Alexandra didn't want to cut into her mother's gown herself so she shipped me the ENTIRE gown when she booked her customization last January!!!! This means that I had the totally lovely benefit of staring at it for about three months while we waited for her scheduled customization month to arrive. (Fun fact: I actually pinned it to the studio wall above my computer so that I could stare at it everyday! Not surprisingly, vintage wedding gown make for incredible wall art.)
There are so many wonderful and truly meaningful details included within this garter set that I don't even know where to begin!! For her "something blue", Alexandra requested that the words "Let Go, Let God" be sewn into the inside of her garter, which made me delierious with sentiment. Also, because she and her fiance love going up to the mountains, we found a rose gold pendant online to place at the center of her toss garter (which she will, of course, never toss!!) Then, as if the set wasn't already special enough, we decided to create the back band of her keepsake garter using the satin dress fabric from her mother's gown!!! Below are pictures of the final product. To say that I ADORE this garter set is an understatement. If someone were to ask me to describe this garter in three short statements, I would probably have to pick: 
1. True heirloom Integrity
2. Deeply Meaningful
3. Irreplaceable 
To be completely honest, I could probably write a five page paper on the utter specialness of this garter set, including how closely Alexandra and I worked together while creating it. But I know you all don't like uber-long blogs, so I'll keep it brief. If you are as interested in this garter as I am, then please feel free to mull over the photos below as much as you would like. And if you are determined to book your own La Gartier Custom garter, then feel free to contact us at info@lagartier.com. We are booked until August at the moment, but as long as you are not saying "I Do" until early September or anytime thereafter, then we would be honored to work with you. 
The front jeweled piece of Alexandra's garter was created using rose gold settings and beading. The stones were a mixture of clear rhinestones and opals. Swoon, right?
The back band on Alexandra's keepsake garter was made using the fabric from her mother's wedding dress. Do you see those tiny floral appliques that we hand-sewed on top of the band for a pretty 3-D floral affect? Those were once apart of the lace that lined the neckline of Alexandra's mothers' gown. 
On the inside, printed in blue, was a signature statement of Alexandra's grandmother: "Let Go, Let God"
What a beautiful "something blue," right??!
My favorite detail on Alexandra's toss garter was the rose gold mountain charm. It symbolizes where she and her soon-to-be-hubby spend a large part of their leisure time: in the mountains.  Alexandra was responsible for finding this little gem of a pendant. If you love it as much as I do, check out a company called
Rudiana
on Etsy. The shop is full of drop dead dainty items!